Trees provide more than just scenery and shade. They are a vital part of the NSW ecosystem in all their shapes, sizes, and species. But there are occasions where it's best to trim back or remove them, and that's where tree cutting comes into play.
This is not a task for the faint of heart or the novice gardener. It requires skill and understanding of the tree itself as well as how to work around buildings, utilities, and people safely and effectively. In some cases, a trained arborist may be able to help save a tree by cutting it back or removing damage. In others, full removal is the best approach.
Homeowners are largely responsible for any damage inflicted by a falling or damaged tree. With this in mind, proper cutting can protect both property and pocketbooks. The cost of hiring out professional cutting in Sydney is far less than anything you would pay if limbs or trunks came crashing down.
Let's cut to the chase.
Sydney Wide Tree Cutting is tops when it comes to cutting down trees. That's why it's in our name. We offer a full suite of services, including 24/7 emergency callouts, with a focus on customer satisfaction. You can call us on 0406 373 737 any time, and we'll be more than happy offer a quote, advice, and service you can count on.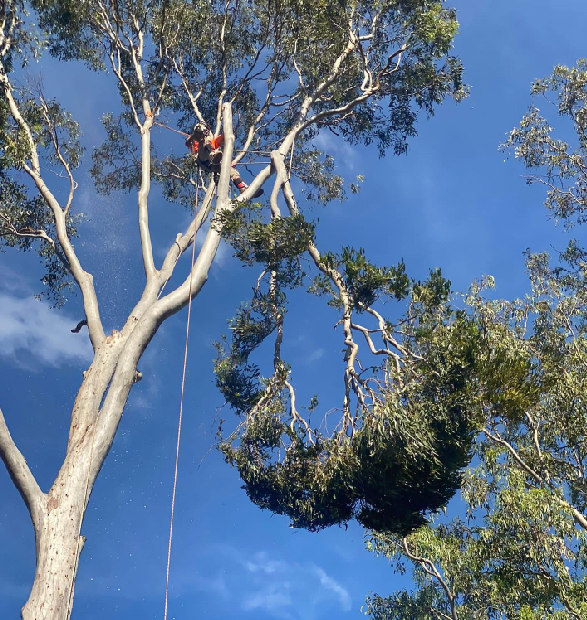 FREQUENTLY ASKED QUESTIONS ABOUT
TREE CUTTING IN SYDNEY
Text – Council fees can be anywhere between $50-150 and permissions can vary. There may also be additional fees per tree that you want to remove. Always be sure to check the requirements before you move forward with any planned tree cutting project. There may also be exemptions for emergency situations, so it is always good to familiarize yourself with the rules or choose a local tree cutting who already knows how to handle common situations.
If a tree poses a threat to a structure or the people nearby, then it almost certainly will need to be removed. However, in addition to the council approval fees we mentioned, you may also need special dispensation to remove heritage or significant trees that are protected.
The Sydney Development Control Plan 2012 blocks removal without permission for trees that have exceptional historic or horticultural significance. This includes trees of Aboriginal importance as well as functional purpose. Individual councils will maintain a list of trees that are considered protected. The fines for violating these rules are steep in both local court and Land and Environment Court, so be sure you are very clear on what you can and can't do before forging ahead.
No, and this is a bit of cause for concern. Since licensure through Arboriculture Australia and similar organizations is not required, many tree services rush to market without adequate experience or qualifications. It's always best to look for a service with licensed arborists who are much more likely to follow, and exceed, the minimum industry standards.
FREE SITE FREE QUOTES WITHIN 24 HOURS