EXPERT IN TREE REMOVAL SYDNEY
PROFESSIONAL AND QUALIFIED
Are you in Sydney and in need of the best team for your tree removal or cutting concerns? We can help. We're Sydney's trusted Arborists & tree cutting experts. All of our arborist services are complete right from the initial inspection to the final stages.
Do you have a tree fallen in an unusual location? 
Need to have your tree removed on a hard to get area? No problem. We remove unwanted trees and branches as well as fallen ones as a result of harsh weather conditions and other causes. We remove large and small ones to make room for your dream home.
Why Sydney Wide Tree Cutting? 
We have all the skills, experience, and premium equipment that you require for your tree cutting needs. We ensure that the work gets done easily, efficiently and safely. We provide felling, land clearing, stump grinding and removal just to name a few of our services.
Having Emergency Tree Concerns? We Offer Emergency 24/7 Service. If you do end up having an emergency due to fallen trees and branches caused by storms or high winds, we can help you with our 24/7 tree cutting emergency service.
Call us on
 

0406 373 737

 

to request for a quote.

TREE REMOVAL

TREE CUTTING
STUMP GRINDING
TREE PRUNNING

TREE FELLING

LAND CLEARING
Are You Looking For
Specialists To Transform Your Landscape?
When it comes to tree trimming, our experienced arborists understand the importance of maintaining the health and beauty of your trees. Our meticulous approach ensures that each tree is pruned carefully, removing dead or overgrown branches while promoting healthy growth.
We can shape your trees with expertise and professionalism to enhance their aesthetic appeal and maintain their structural integrity. Stop searching for bush trimming near me, as we have a team that is specialized in bush trimming services, helping you maintain a neat and well-manicured landscape. We understand that well-maintained bushes can significantly enhance the overall appearance of your property, and our skilled professionals ensure precise trimming to achieve the desired shape and size.
Why are we concerned about nature?
As we also offer comprehensive lawn maintenance services, we know that regular tree care is crucial to preserve the health and longevity of your trees. Our tree maintenance service includes felling, land clearing, and stump grinding.
What are the charges?
We understand the importance of affordability, so we offer affordable tree removal near you. Our competitive pricing ensures you receive top-quality tree care services without breaking the bank. Our transparent pricing and commitment to customer satisfaction set us apart as a trusted choice for all your tree care needs. So, If you are looking for Affordable Tree Removal Near Me, you can contact the Sydney Wide Tree Cutting.
As local tree trimmers, we take pride in serving our community. Our team of professionals is knowledgeable about the local flora and can provide tailored solutions that suit your specific environment. We are dedicated to delivering exceptional customer service and ensuring your complete satisfaction with every project we undertake.
Gary Heel
They are very professional in there work and the cost for the work I had done was a great price a lot better than other quotes I got to remove two very big gumtrees all done and cut up in under 4 hours and they cleaned up afterwards they would be the first company I would recommend for any tree removal
Gary Heel
Sydney, Australia
BM Army
SWTC team did a very quick and incredible job in removing a big tree in our front yard. They were on time, friendly and easy to deal with. Absolute professional and we're really impressed. Wouldn't hesitate to use this team again. Thanks guys!
BM Army
Sydney, Australia
Hoda Sleiman
An efficient and well priced service- thank you!
Hoda Sleiman
Sydney, Australia
Vicky James
Eddie and his team were amazing today! Eddie was so easy to deal with and his team just got in and got the job done within an hour. The whole process was seamless and just easy. Will highly recommend and use again.
Vicky James
Sydney, Australia
Shirley White
Would recommend this company very quick quote and service clean up perfect
Shirley White
Sydney, Australia
WHY CHOOSE
SYDNEY WIDE TREE CUTTING
Sydney Wide Tree Cutting is a team of professional tree removal specialists. Our services include removing trees, shrubs and branches, stump grinding, land clearing, thinning and pruning, as well as providing mulching and emergency tree removal services.

Fast Free Quotes
We offer Fast & FREE Quotes as our way of offering a full service. We make sure to accommodate as many clients as we can without any hassle.

Complete Service
From the initial inspection through the final process of tree cutting or removal, our team of experts will guide our clients accordingly..

Wide Variety Of Services
We provide Tree Removal, Tree Cutting, Tree Thinning, Tree Pruning, Mulch, Emergency 24/7 Tree Services, & much more.

Professional Arborists
Our team is composed of licensed & insured arborists who are capable of rendering 100% workmanship in tree removal, cutting, & much more.

Premium Equipment And Tools
With our specialty tools and equipment, we ensure that the work gets done easily, efficiently and safely.

Customer Satisfaction
Our reputation is built on how we have consistently served our customers efficiently. Choosing us for your tree removal or cutting needs will guarantee you 100% service satisfaction.
Our Desire For Service
SWTC was founded with the belief & desire for commercial, municipal & residential tree care services upholding the proper & ethical work standards – all the time. Besides, we have years of experience and expertise in providing quality services in the Sydney area of NSW. On top of that, we have $10 million in liability insurance for your peace of mind.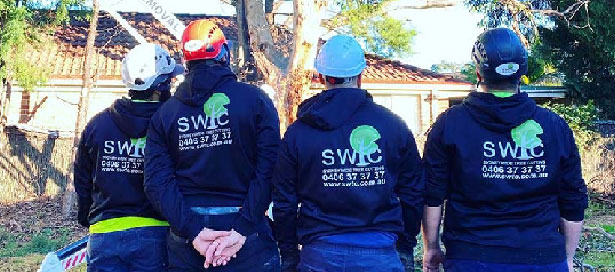 Ask Us For a FREE Quote
Want to experience the best arborist services in Sydney? We are dedicated to servicing Sydney and its surrounding areas. No job is too small or big – we've got you covered. Call us today on 0406 373 737. We have the best tree removal solutions for you.
FREQUENTLY
ASKED QUESTIONS
Text – Council fees can be anywhere between $50-150 and permissions can vary. There may also be additional fees per tree that you want to remove. Always be sure to check the requirements before you move forward with any planned tree cutting project. There may also be exemptions for emergency situations, so it is always good to familiarize yourself with the rules or choose a local tree cutting who already knows how to handle common situations.
If a tree poses a threat to a structure or the people nearby, then it almost certainly will need to be removed. However, in addition to the council approval fees we mentioned, you may also need special dispensation to remove heritage or significant trees that are protected.
The Sydney Development Control Plan 2012 blocks removal without permission for trees that have exceptional historic or horticultural significance. This includes trees of Aboriginal importance as well as functional purpose. Individual councils will maintain a list of trees that are considered protected. The fines for violating these rules are steep in both local court and Land and Environment Court, so be sure you are very clear on what you can and can't do before forging ahead.
No, and this is a bit of cause for concern. Since licensure through Arboriculture Australia and similar organizations is not required, many tree services rush to market without adequate experience or qualifications. It's always best to look for a service with licensed arborists who are much more likely to follow, and exceed, the minimum industry standards.