At Sydney Wide Tree Cutting we understand you love your trees, but there comes a time when you need tree removal to protect your property and your family – and you need a service you can trust.
Trees add beauty to your home and elevate your outdoor space, but when trees become a risk to your property, an ongoing safety hazard, or stand in the way of your development plans, you need ethical, sustainable tree service to support your needs. At SWTC our team of skilled arborists knows what it takes to safely and professionally remove all types of trees.
When you need fast and affordable help, our tree surgeons will carefully remove your unwanted trees and leave your property safe, secure, and ready for your exciting next stage of life.
ATTENTION SYDNEY HOMEOWNERS: Claim your FREE on-site hazard assessment or tree care consultation now [valued at $450].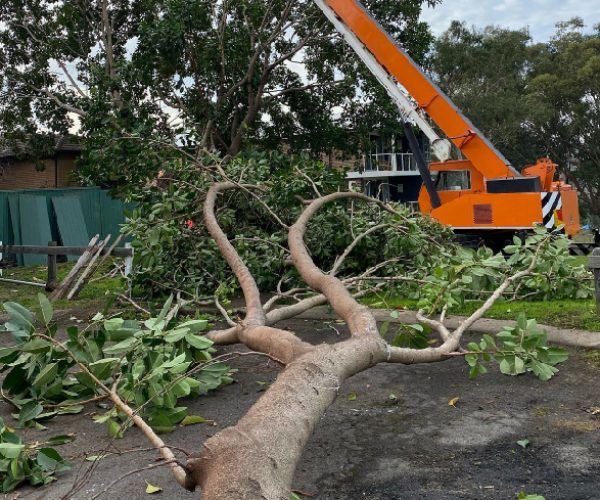 Warning Signs Your Tree Needs to Be Removed
Trees add valuable shade, security, privacy, and character to homes and yards across Sydney – but there comes a time when the removal is necessary, so it's crucial you know what red flags to look out for.
Everything from property development to risk management and environmental preservation can be the reason to organise a local service. The sooner you can identify signs of disease or damage, the easier it is to take action. If any of the following warning signs sound familiar, it may be time to call in a tree service.
❌ Damaged, Dying, or Dead Branches
A dangerous fall-risk, be on the lookout for signs of ill-health and illness like discoloured leaves, fungi, split bark, or dying limbs.
❌ Spreading Root Systems
Although out of sight, tree roots pose a risk to footpaths, pavings, and pipes. When trees grow too close to nearby structures, power lines, or utility lines, you'll need a plan to safely take care of the problem.
❌ Falling Branches
Prevention is better than a cure, so be on the lookout for trees that are regularly dropping branches. A seemingly healthy tree trunk can still have branches that contain internal decay, or external cracks and hollow spots.
❌ Attacked By Termites
Termites and wood-boring insects can devastate your favourite trees from inside without showing signs…until the damage is done. Be on the lookout for termite shavings, termite wings, or hollowed trunks.
If you recognise one (or more) of these warning signs, it's time for a professional arborist to step in. Get in touch with the SWTC team today and organise an obligation-free risk assessment today.
Wondering if your tree can be saved? Click here to explore our Tree Pruning service and find out how we can help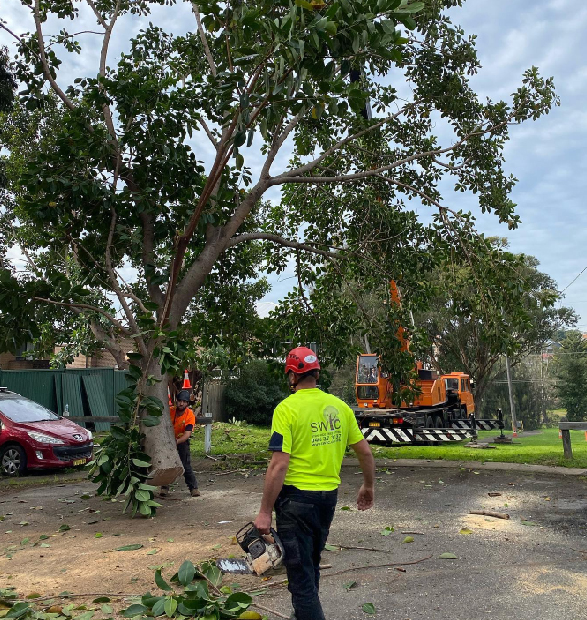 How Much Does This Service Cost in Sydney?
That's the million-dollar question (thankfully, in Sydney it is much cheaper than that). The removal can cost anywhere from $500 to $5,000 and up, though the cost will depend on a range of influences, including:
✅ TREE CONDITION
Have your trees seen better days? Sick and diseased trees pose additional safety risks to arborists, which can increase the overall cost.

✅ TREE SIZE
Bigger trees typically require more manpower and equipment to handle the job, plus the cost of disposing of debris, branches, and the trunk.

✅ TREE TYPE
Hardwood trees are generally tougher to remove than smaller, softer tree species, with different tree species requiring different disposal methods, contributing to the price you pay.

✅ TREE LOCATION
Can the tree be easily accessed by trucks, cranes, and wood chippers? Access considerations include stairs, sloping yards, and other structures, all of which impact the cost.
We understand how frustrating it is asking how much tree removal costs in Sydney and being told "it depends" so we're proud to offer fast, FREE quotes to help you make an informed decision.
Simply contact a member of our skilled team on 0406 373 737 for a fast FREE quote today.
Prefer to compare prices yourself? Click here for our 'How Much Does Tree Removal Cost' Guide [Includes Updated 2022 Prices]